Spend the Night Away with the One You Love and Stay in our Mini-moon Accommodation
It's not long now till your big exciting day, the day you've spent months planning for, stressing over and fighting relatives about guests lists and seating plans. In a way you can't wait for it to be over.
At the bottom of your priority list has probably been your honeymoon – and after all the wedding expenses it's probably the last thing you can afford. So why not have a delayed honey-moon six months later, and enjoy a mini-moon straight after the wedding. A chance to escape for a few days, away from the crazy relatives and give the two of you some quality time together as partners before returning to life.
Sierra Escape Mudgee is the perfect destination for your post wedding Mini-moon. Only 3.5 hours from Sydney – escape and explore the beautiful Mudgee region and stay in one of luxury glamping tents in NSW.
Carinya
The ultimate escape
Floor Space: 27sqm
---
This is where it all began, consisting of a spacious 18m2 bedroom with a king bed, glass sliding doors to capture the magnificent views and large screened windows to allow those beautiful summer breezes in.
Dulili
Spacious views
Floor Space: 54sqm
---
Part of our premium offering, Dulili is perfect for couples who want to escape from daily life to luxury and comfort. Positioned in it's own secluded setting, with spectacular views.
We have three luxury tents set in their own private areas to choose from starting at $320 per night. Two of our tents have stunning outdoor tubs, and give you the best opportunity to relax and recharge after a stressful couple of months.
Your minimoon is also the perfect wedding gift to receive from some of those hungry guests who will be attending your wedding.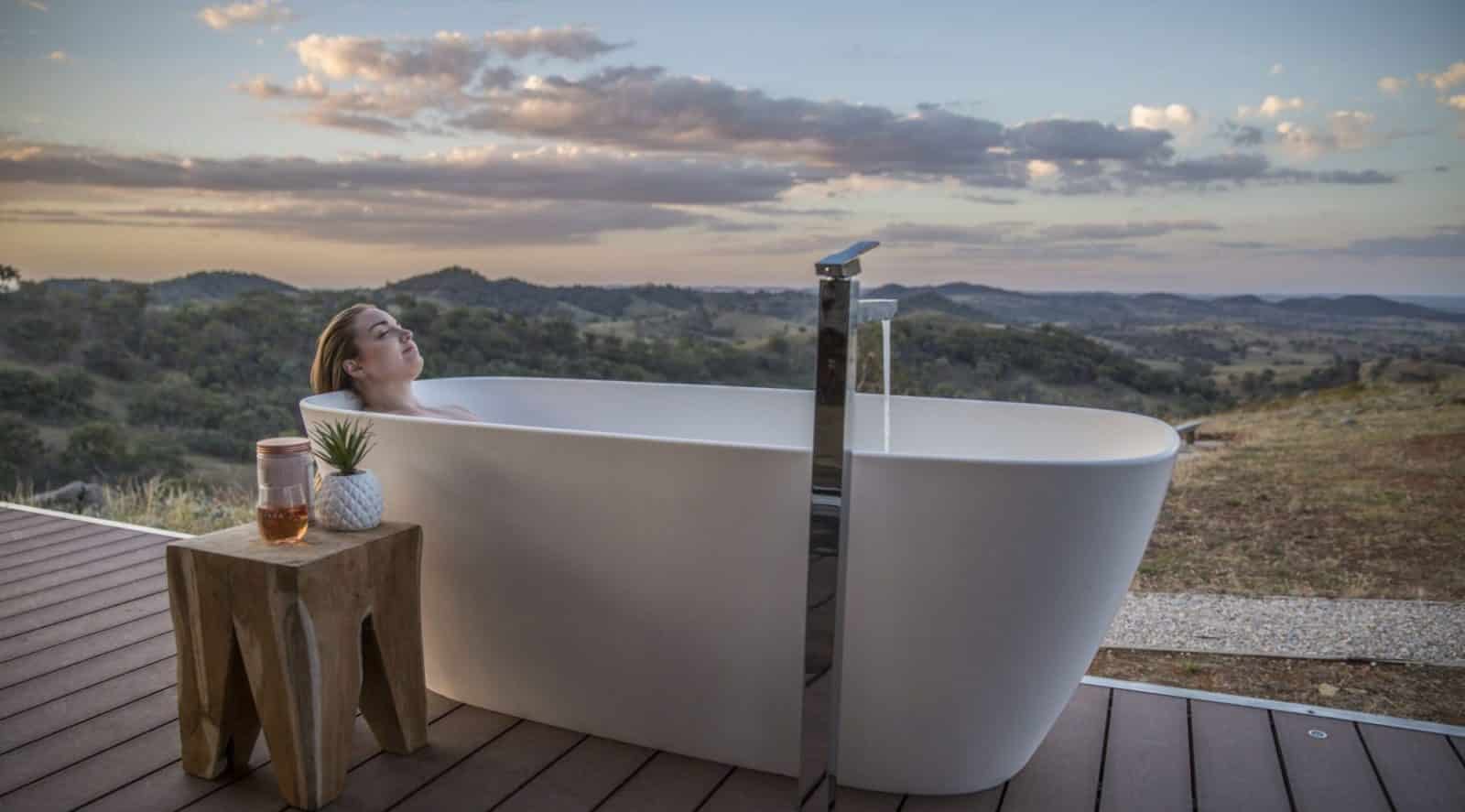 Not sure if luxury glamping is your thing? We have designed our tents to cater for your every comfort. From comfy king beds & rain showers to log fireplaces and designer kitchens – we've done our best to ensure that your every need is met for your stay.
Like to organise something different from the comfort of your luxury glamping tent? Why not a private in-tent massage, or an indigenous bushtucker meal cooked by the fire. We can also organise wine tours and helicopter flights.
So give your bank account a little time to rebuild after the wedding and enjoy a relaxing few nights luxury glamping at Sierra Escape on your mini-moon.