We have teamed up with some of Mudgee's best providers, so that you can book your entire Mudgee experience from the one place while booking your accomodation at Sierra Escape.  Simply add any of the below experiences to your booking after selecting the dates you wish to stay.  If you've already booked simply get in touch and we can add them to your booking for you.  Please note that all experiences are subject to availability, and some experiences are hosted off-site.
Energy Healing Massage
Enjoy a relaxing massage from the serenity of your luxury tent.  During each session Virginia (a Mudgee local) may use a combination of massage techniques that will provide the most therapeutic benefit and relief to your body, leaving you feeling renewed, rejuvenated and relaxed.​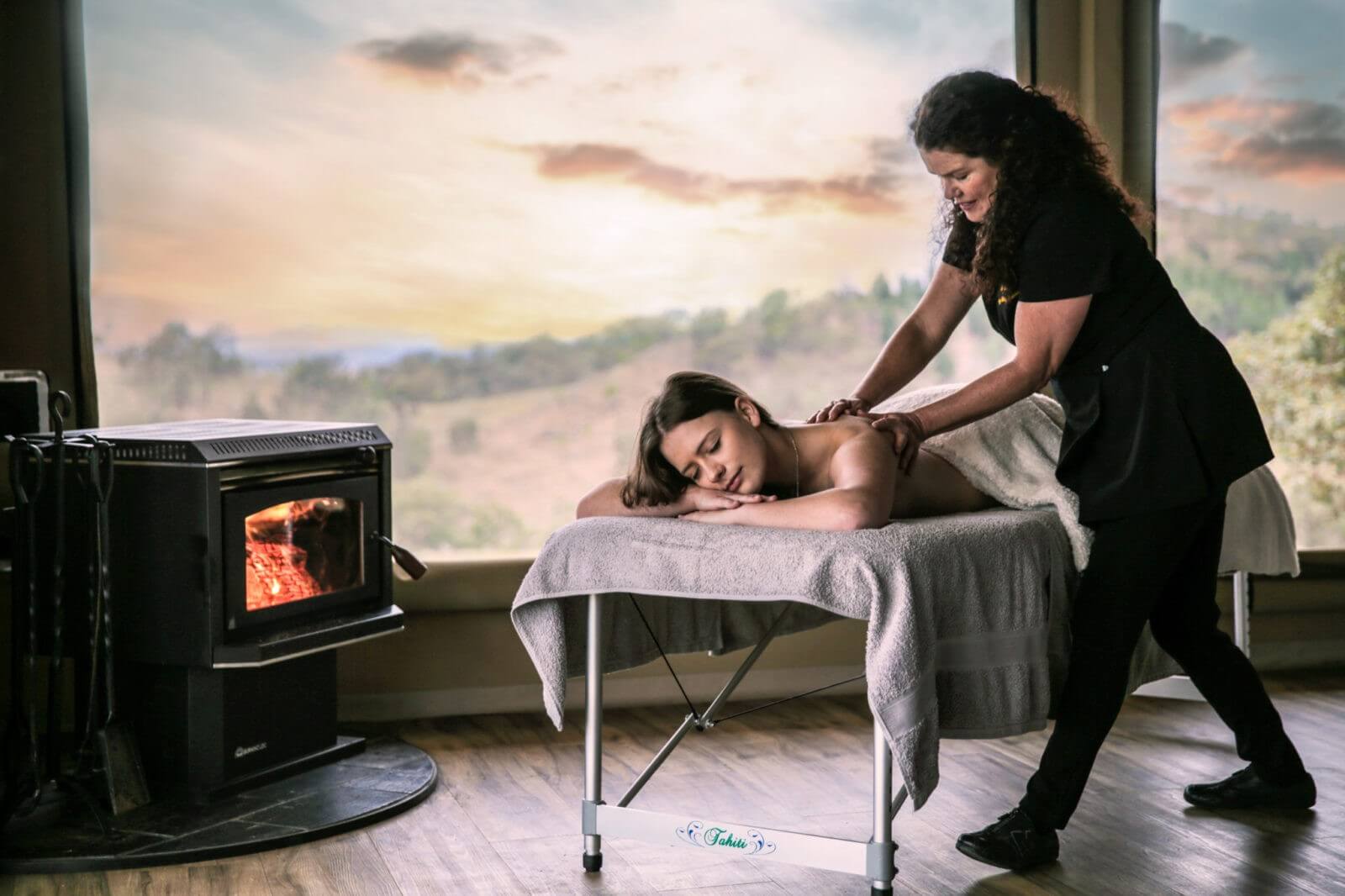 Tour Mudgee Now and Then
Want to explore Mudgee's beautiful wineries but don't want to worry about having to drive?  Book your private personalised half or full day wine tour with Mark from "Tour Mudgee now and Then" and you can be picked up from your tent.
Mark, has been associated with the Mudgee region for over 30 years and has a knowledge of the town and its surrounds that only comes from a wealth of experience.
Private Yoga Class at Sierra
1 hour guided private yoga class for 2 people by qualified local Mudgee instructor Hannah Edensor. The practice can be tailored to individual experience levels and is hosted at the stunning Sierra Escape outdoor lounge and pool.
Private In-tent Wine Tasting
Tease your palate with Mudgee's only private wine tasting experience for two.  Provided by "Exclusively Mudgee" the experience is personalised to your taste, guaranteeing you try the type of wines, beers, and spirits you like. We focus on offering wines from small wine makers, unavailable for purchase at cellar doors, along with best-sellers, limited releases, and a few of our favourites.
All tastings include a platter, packed with local produce, plus everything you need for an intimate, guided tasting.  This luxury and unique experience means you can enjoy the best of what Mudgee has to offer without even leaving your tent, and what could be better than a wine tasting by the fire with those stunning views!?
The Zin House
The Zin House is a very special place for us, and we're so honoured to be able to offer our guests Lunch or Dinner experiences at this stunning restaurant.  The Zin House is situated on a large expanse of certified organic/biodynamic farmland and vineyards in the Mudgee wine region.  They grow much of their own food and focus primarily on showcasing this produce as part of a dining experience focused on nurturing their guests.  They specialise in giving the gift of time to enjoy their food and wine, the countryside and your companions. They never turn tables over.  The Zin House is the only hatted restaurant in Mudgee.
To learn more head to http://zinhouse.com.au/
Kyaking Experience, BBQ Lunch & Wine Tasting
Enjoy the great outdoors kayaking the breathtaking Dunns Swamp and experience the wonders of the Wollemi National Park from the peaceful perspective of a stable kayak. Enjoy a picnic bbq lunch before your guide then gives you the chance to taste local wines with a tour of the Rylstone vineyards before heading back to Sierra Escape. Available Oct – February (Min 2 people)
Commercial Helicopters
For those that love to travel in style, we've teamed up with Commercial Helicopters in Mudgee to provide helicopter winery tours, and scenic charter flights.  Flights leave from Mudgee Airport, or why not have your pilot will pick you up from Sierra and drop you back afterwards?  Experience Mudgee from above, and see how Mudgee got it's meaning "Nest in the Hills".
Flights are subject to weather and weight restrictions, and tours can be customized directly with Commercial Helicopters.
Local Meat & Cheese Package - From Dad's Deli
Delight your taste buds with a local produce package from Dads Deli in Mudgee – packaged and awaiting you in your tent on arrival – so you can create your very own delicious platter.  Includes: Salami, Prosciutto, Cheddar, Olives, Dip & Crackers (Items may vary depending on availability). Please note: At least two weeks notice required.
Horse Riding Experience - Country Escape Tours
Enjoy the great outdoors with a morning horse ride through a gorgeous bush setting. Wind through beautiful scenery and soak up the peace and serenity of the landscape. Indulge in lunch before your guide takes you to taste the local wines of Mudgee. Sip and swirl your way around the vineyards and enjoy all the local produce the area has to offer before returning to Sierra Escape. Catering for beginners to experienced riders.